Lifeguarding - Swimming Lessons - CPR/First Aid Training
Lifeguarding
Welcome to our lifeguard page!
Placing home-owners and guests alike in a state of comfort and peace of mind, our private lifeguards are found to be very essential as they demonstrate to be a valuable investment for ensuring water safety in homes all around Los Angeles. Attentiveness, reliability, experience, and certifications, such as, FIRST AID, CPR, and Lifeguarding Skills are always present upon arrival of our fun and outgoing North Valley Swim LLC pool party lifeguards.
Why Choose North Valley Swim LLC Lifeguards?
Through bi-monthly lifeguard training in olympic size pools and consistent work experience, our lifeguards gain the confidence and skills to work well under pressure whether they are working alone or in pairs. Because our lifeguards meet, not only do they know who they will work with in the future, but our lifeguards also have come to understand that every pool party is different. As a company our private lifeguard service has supervised a variety of backyard children`s pool parties, as well as high profile pool parties at hotels, and public venues. As individuals all of our lifeguards are personally interviewed, tested in the water, hold current lifeguard certifications, and have a minimum of 3 years of experience. Plus, our lifeguard service is insured, and bonded.

We've supervised hundreds of parties over the years, and always have recognized a high rate of return clients. Because of this trend we invest in our company, our employees, and our community by providing hours of work and training for our lifeguards, and direct company involvement in our community. We've been known to make silent auction baskets for local schools, joining business chambers and even participating in lifeguard associations around Los Angeles and the San Fernando Valley.

Listed below are some examples of events we have served in the past.
Lifeguards for birthday parties
Lifeguards for graduations
Lifeguards for bar mitzvahs
Lifeguards for private events
Lifeguards for celebrity events
Lifeguards for corporate events
Lifeguards for film/photo shoots
Lifeguards for hotel parties
Lifeguards for museum exhibits
Even if all you need is some pool party advice, we'd be glad to help. Give us a call!!!

Click to listen!
Subscribe to our newsletter and share our webpage with your friends on facebook just by clicking the link on the top right hand corner of this webpage.
*North Valley Swim LLC also sub-contracts lifeguards and swim instructors to companies, and large firms. Contact NVS for details.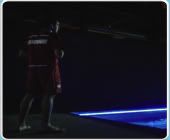 (North Valley Swim @ The Ritz-Carlton)
(North Valley Swim @ LAMOCA 12/12/2010 - 2/27/2011)
North Valley Swim LLC currently provides certified pool party lifeguard services for most of Los Angeles and all of the San Fernando Valley.
☛ ARE YOU LOOKING TO STOCK UP ON POOL SUPPLIES?
We recommend you stop by the centrally located AQUA POOL SHOP in Reseda for unmatched pricing and customer service! Do you have questions on what type of equipment to look for? Give them a call or visit their store.
Contact Info:

AQUA POOL SHOP 17737 Sherman Way, Reseda, CA. 91335 (818) 344 7665
Unconditionally, what they teach is a must in Everyone's life, and motivating children to "want" to learn is an art. NVS has perfected their Delivery System to a science. Well-done guys!! " Satisfied Customer
"Every time my son gets in the car all he talks about is going swimming when we get home and what he did in swimming class."
Rosner Research.
| | | |
| --- | --- | --- |
| | WaterSafety@NorthValleySwim.com 1 818 448 5932 | |